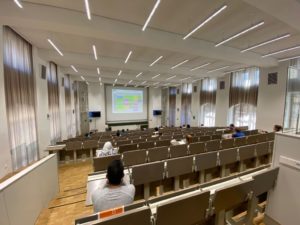 Opening of the Summer School 2020 "Computational Photonics" at KIT

We are glad having the opportunity oganising the Summer School as a hybrid event in these extraordinary times and saying hello personally to Sven Burger, Christin David, Lothar Nannen, Philipp Schneider and Barbara Verfürth. Due to travel restrictions our lecturers Andrei Laurynenka, Owen Miller and Ole Sigmund will provide their lectures online. More than 155 researchers have been registrated from all over the world and will join the Summer School on-site and online.
We are looking forward having a exciting, instructive and successful week.