At the end of August, doctoral students of the CRC 1173 met for the iRTG retreat 2022 at the monastery Hegne near Constance.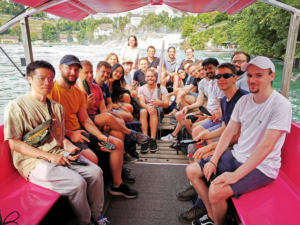 The interdisciplinary workshop aimed at introducing the participants of the different faculties to important basics of the respective other disciplines. Thus, presentations were prepared in advance in groups of two and three on topics such as an introduction to Maxwell's equations from a physicist's point of view, Strichartz estimates. But also topics such as neural networks and dealing with the version control system git were presented. The presentations led to lively discussions and served as an excellent introduction to foreign fields as well as a basis for future cooperation within the CRC.
Of course, the social part was not neglected: The lunch break between the lectures was used to go for a swim in Lake Constance at the hotel's own beach. In the evenings, people sat together at the beach or in the club room of the hotel and shared drinks or played games together, which gave them the opportunity to get to know each other better away from work.
The highlight of the social program was a half-day excursion to the Rhine Falls in Schaffhausen, a very impressive experience that all participants will surely remember for a long time. Afterward, they enjoyed dinner at a restaurant in Constance and let the evening come to a pleasant close.